Our environmental approach for an eco-friendly and sustainable tourism accessible for all

Protecting the environment from planetary risks arising from global warming are nowadays a major concern for everyone
Les Saules eco-gites have committed themselves to a sustainable eco-friendly initiative aimed at:
Reducing human impact on nature.
Preserve natural resources and enhance our rich local heritage.
Reducing pollution.
Our commitments were acknowledged when we obtained the official European Ecolabel awarded by Afnor Certification. This label is worldwide and is a definite warrant of environmental quality. This initiative concerns us all.
Up to now, our company has implemented many actions
Using 100% sustainable energy sources,
Rainwater collection for on-site sanitation, washing machines, outdoor taps and strict water management .
Wood stove, log boiler and wood pellet heater with local wood supply facilities,
Waste water treatment by phyto purification,
Enhancing waste recycling,
Incitement via soft mobility,
Built heritage preservation and short circuit energy rehabilitation (local materials and crafts),
Organic vegetable plot, permaculture, endemic plants, LPO bird sanctuary...
This initiative concerns us all, everyone at their level can contribute to the environment.
Our team will be pleased to talk to you about our policies and actions whenever you like.
Renewable energies and electricity saving
Energies renouvelables et économie électrique
A thermal survey will enable our architect to provide a detailed description of the different posts involved in order to comply with the regional specifications related to thermal improvement and saving (BBC 2012 standards ).
We have finally chosen a log boiler facility  with 8  radiators heating 220 m2 at low temperature in La Grange.La Longère will be equipped with a wood pellet boiler and 2 log boiler burning stoves.
The thermal rehabilitation of the Longère has led us to replace our oil boiler by a Wood pellet one with a log boiler burning stove adding extra cosiness in the main room on the ground floor.
Wood comes from an PEFC accredited supplier, It is delivered dried and cut in 50cm logs on 1,5m3 pallets.
Wood pellets are local and regional. They are packaged in 15kg bags ; stored in the boiler room in a 300kg container lasting for a week.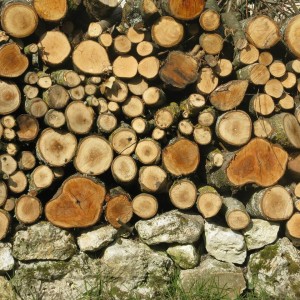 The two fireplaces of the Longère were fitted out with wood stoves with an 8kg heating capacity enabling a real thermal efficiency, acting as a supply heating to the central system and adding an extra cosiness to the house.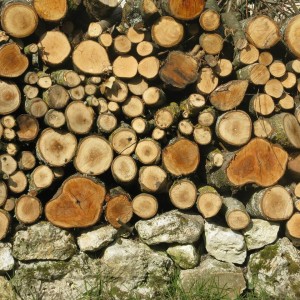 Water saving – rain water collect- dry toilet project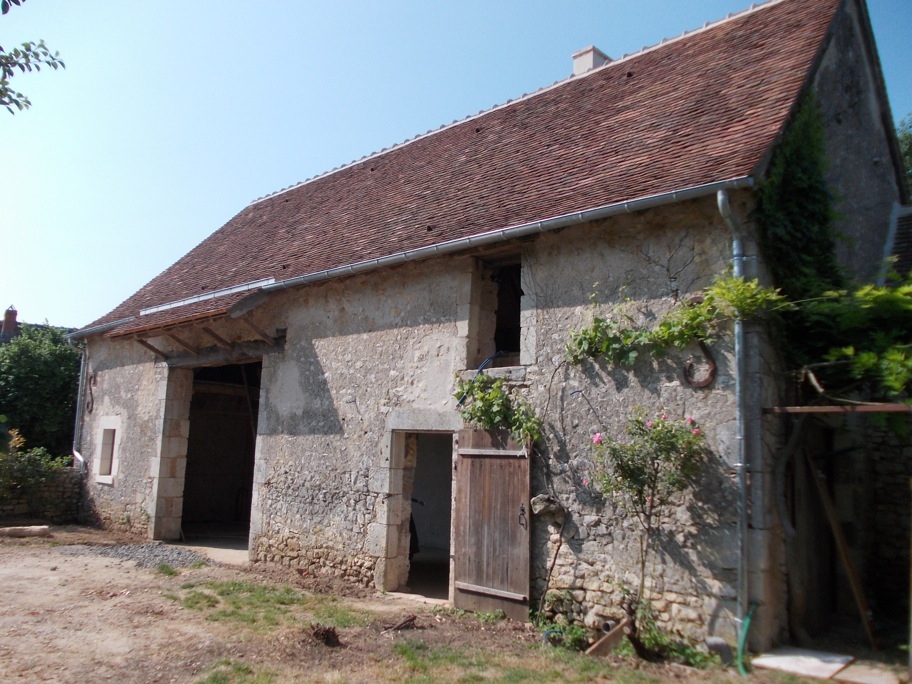 Rainwater collection
The renovated roofs covering 250 m2 allow us to collect rainwater. We entrusted the project to a company called Loiretpluie.
2 vats are buried , water is filtered first and then is redistributed in the network.
A technical cupboard enables filtering and triggers an alarm when the vats go empty.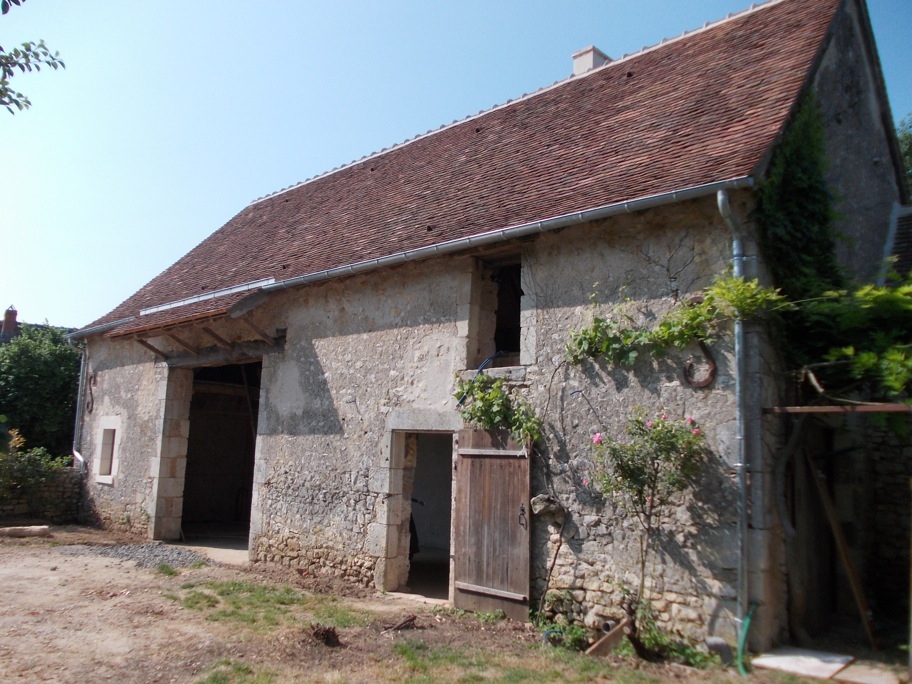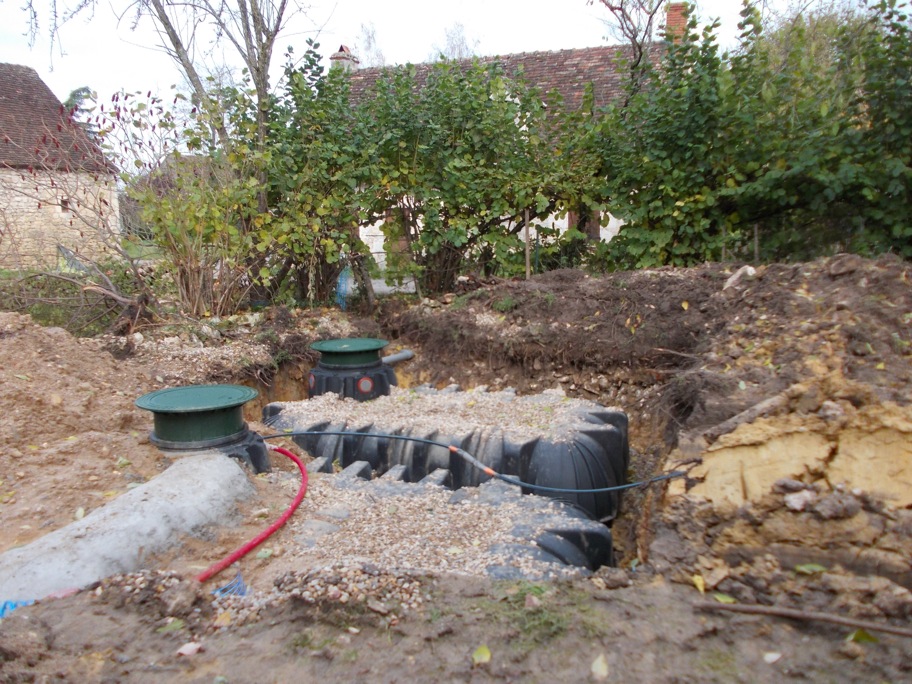 Earth levelling works were carried out by the Rouché company . We soon came to realise that the soil was mostly clay. Vats were weighted down then positionned  in a cascade, an overflow empties itself out into the rainwater manhole.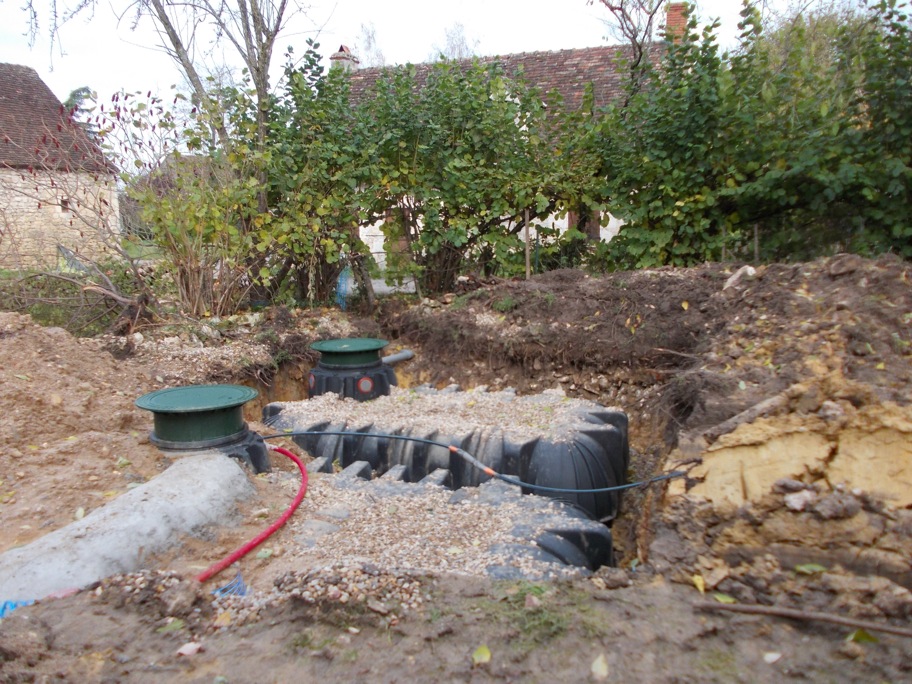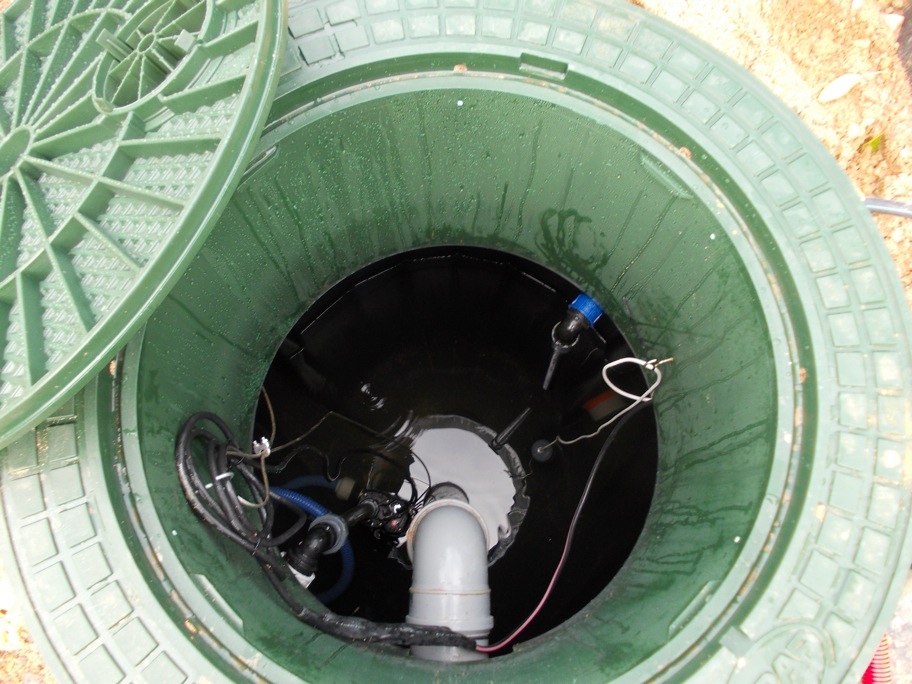 In one of the two 7500 litre vats, an immersed pump distributes the collected water all the way to the technical cupboard located in the technical room of La Grange.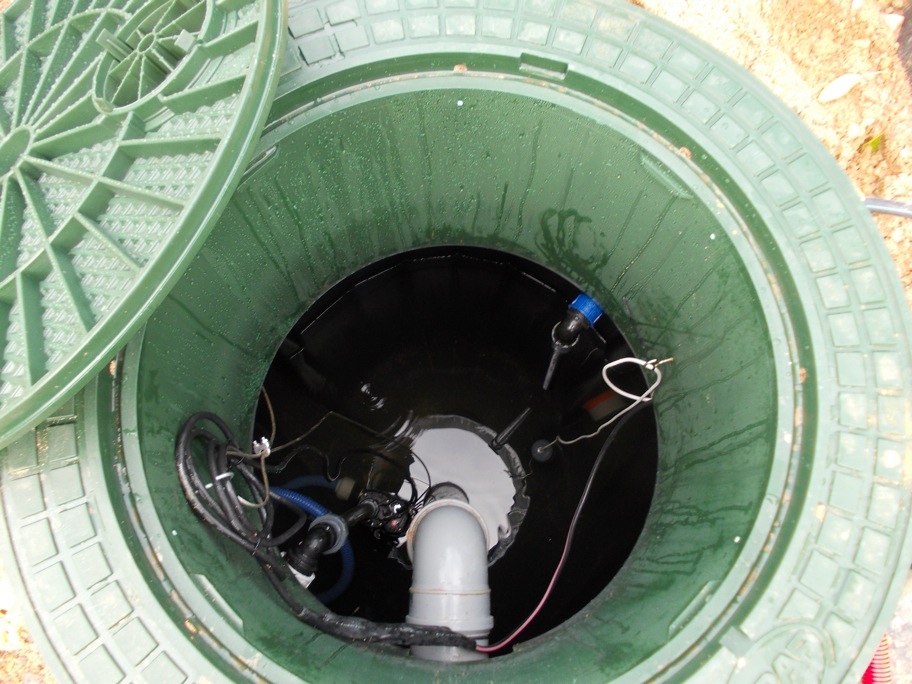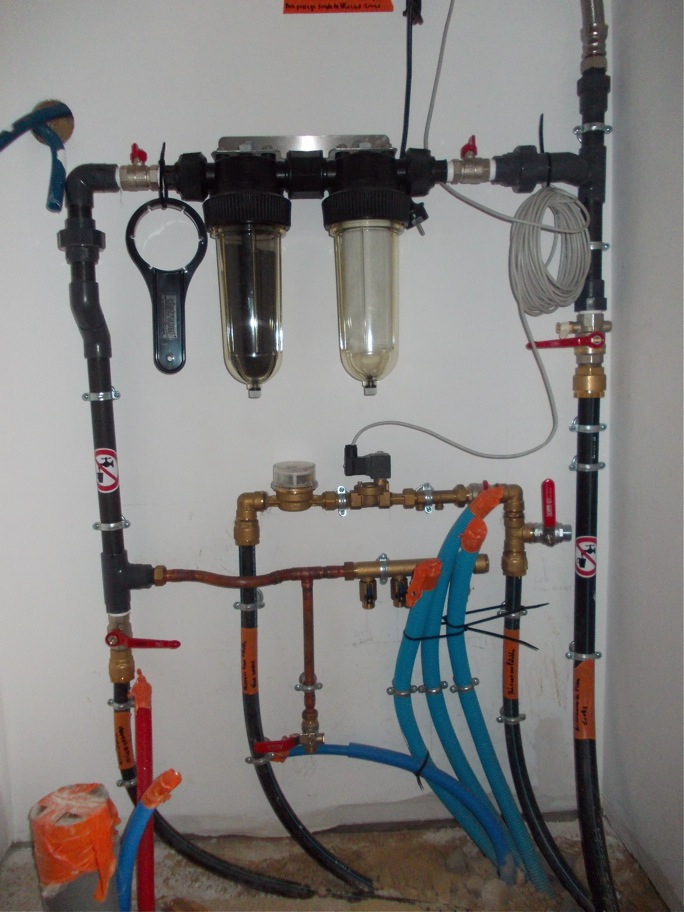 Rainwater is treated by a carbon filter and a serial ceramic filter . In case vats go dry, an alarm detector triggers an electro-valve and the vats fill up automatically with the network water.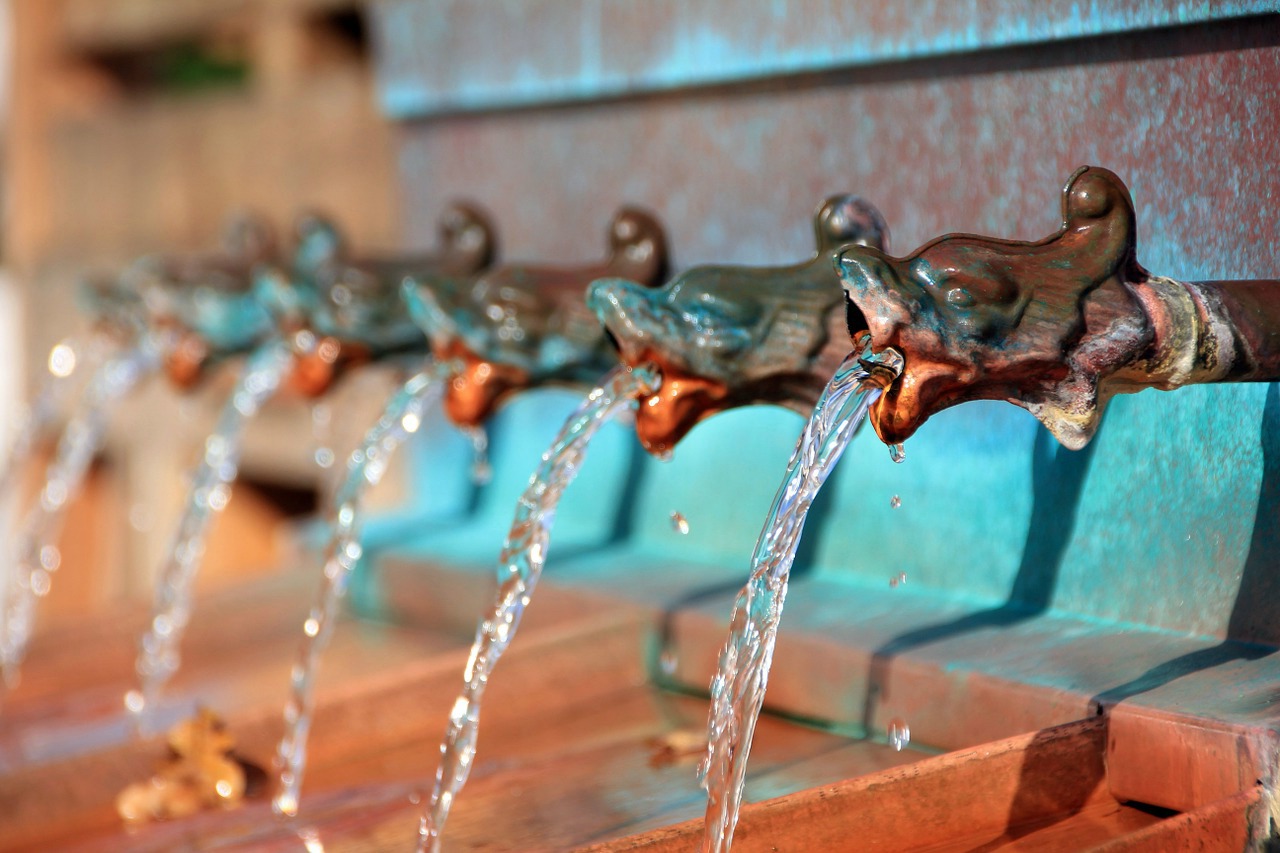 The rainwater network covers the 3 toilets of La Grange and La Longère, the utility room, the supply of washing machines, dishwashers and outdoor taps.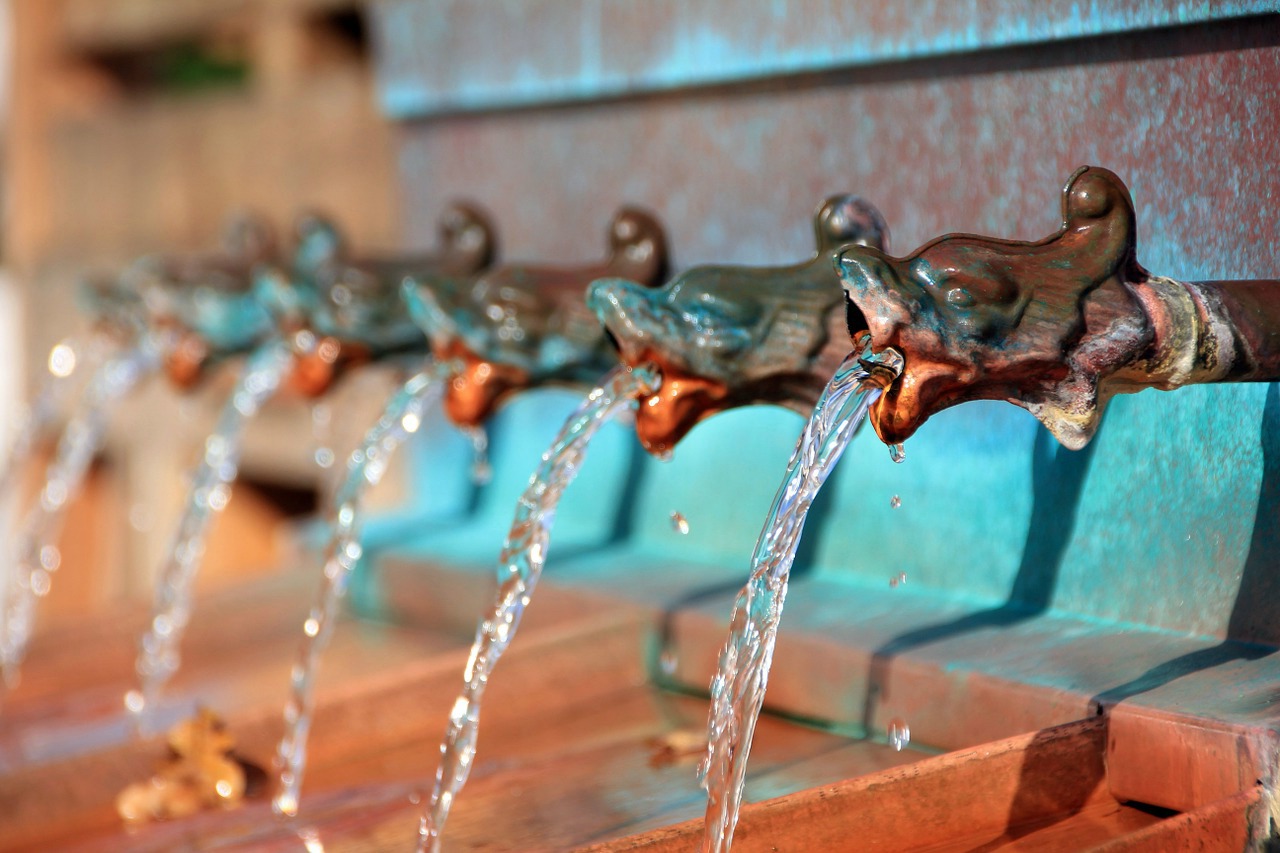 A professional installed the whole network and we obtained the « qualipluie » quality label  offers  compliance warranties with existing laws.
This water is not drinkable.
Waste reducing and recycling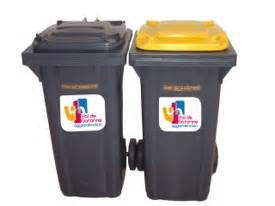 Recycling containers
Pouligny St Pierre council hasn't yet supplied every village household with selective recycling containers.
There is only one place with a garbage container and containers for glass and paper.
Yellow bags are stored in the same container as grey bags.
Local authorities still don't take the responsibility of eliminating dangerous waste.
Recycling in your gite :
Every gite is equipped with a minimum of 4 selective waste recycling including the traditional garbage container.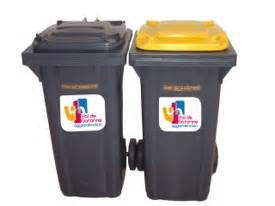 Sustainable mobility of our guests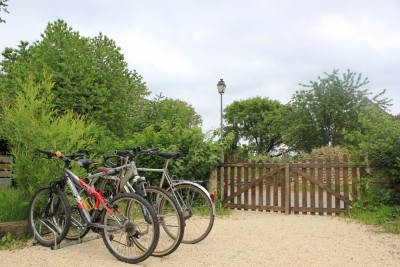 Sustainable mobility of our guests
Sustainable development implies necessarily to rethink our transport and mobility from the point of view of environment and lifestyle protection.
For short journeys there are other ways to travel than driving: the Douadic village ( bar, grocery shop) is only 4 kms away from our gite and the Le Blanc town (with all the facilities) 10kms away using the green path from Pouligny Saint Pierre.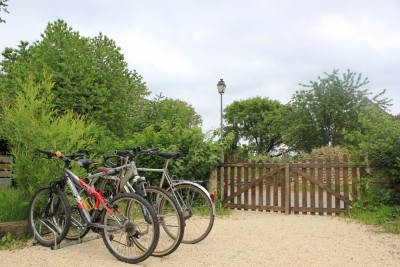 The Maison du Parc has set up many bike trails wandering through La Brenne area ; one road section of the itinerary goes through La Boudinière hamlet.
The offered tours will enable you to discover the rich assets of the nature park
On horse back it is also ideal to discover our nature park. The view is even more beautiful when you are higher up ! You can discover our heritage on a horse, on a poney or on a horse drawn carriage.
In the « Brenne à cheval », Brenne on horseback framework, the park offers itinerant tours from 2 to 7 days, adapted to horse riders, using accommodation partners who signed a quality welcome carta called » « charte d'accueil randonnée à cheval ».
In the two bike sheds ( Longère et Grange ) you will find basic repair kits and precious information and accessories for your rides.
Our guests with their own bikes will be able to store them there and our Company will also have some bikes available to be lent or let.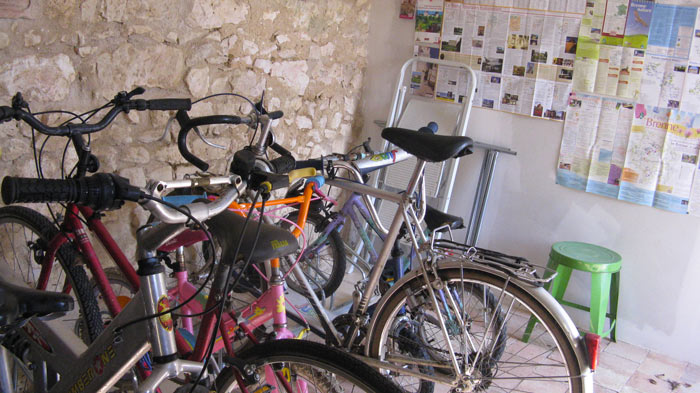 A few bike rental professionnals on parc-naturel-brenne.fr
The Tourist office Du Blanc offers bike rentals, trailers for children, mountain and electric bikes.
Our Ecogîtes with their « bikes welcome »label only offer a bike shed and the related services linked to our commitments… however no bikes are available on site for our guests…
Short circuit energy and agro materials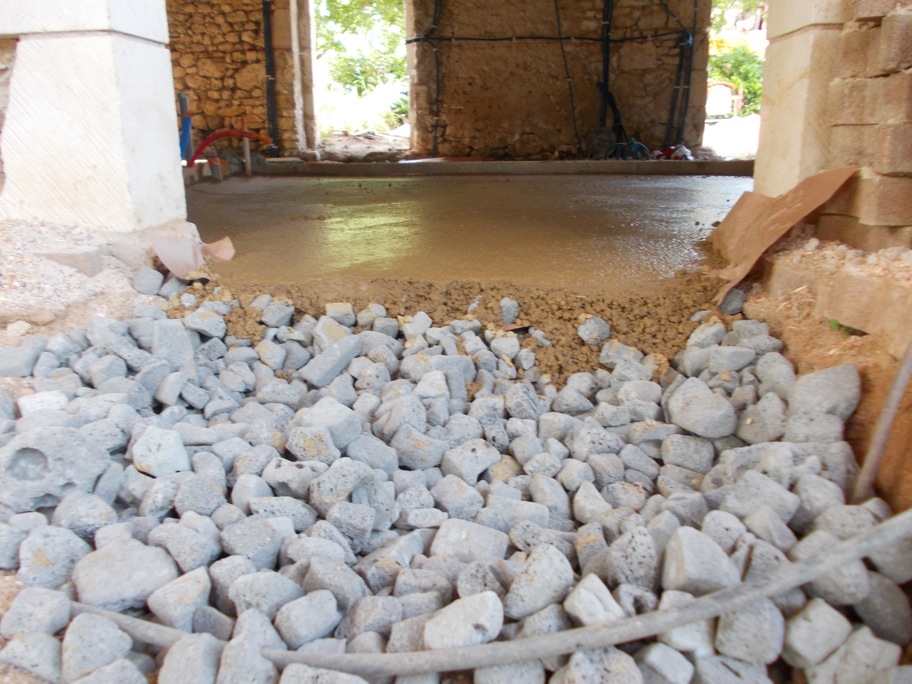 Short circuit energy and agro materials
The building short-circuit energy networks , a key development actor of the Brenne. Extract from publication Number  180 summer 2011 in country farmhouses in France.
"We use tiles, soil, sand, chalk , stone and wood to improve insulation, thatch : straw:  linseed, hemp and gorsebush.."
Our partnership with the local Nature Park aims at bringing together local artisans and entrepreneurs who use local materials and use traditional techniques.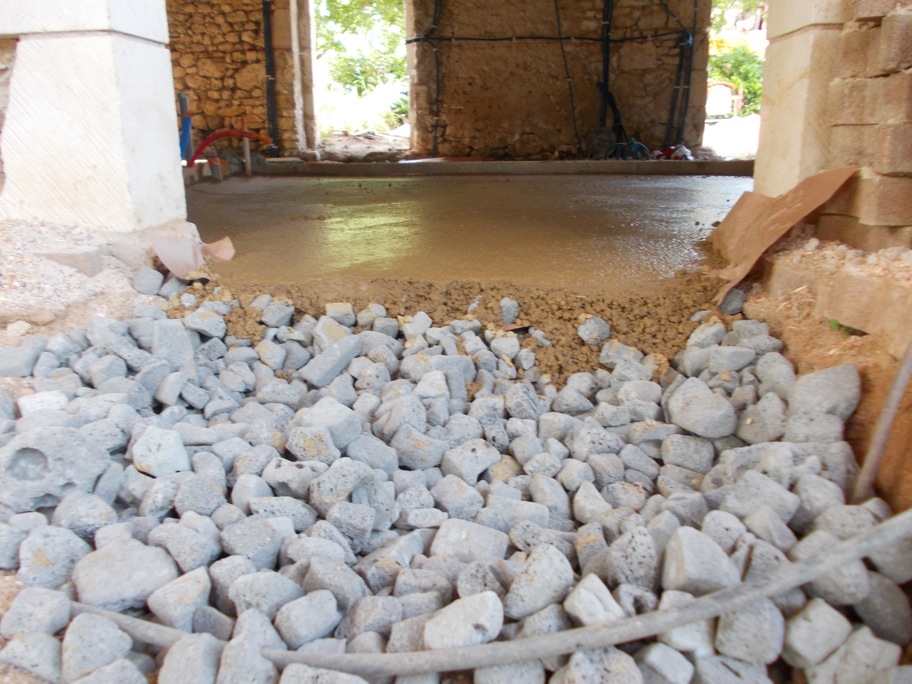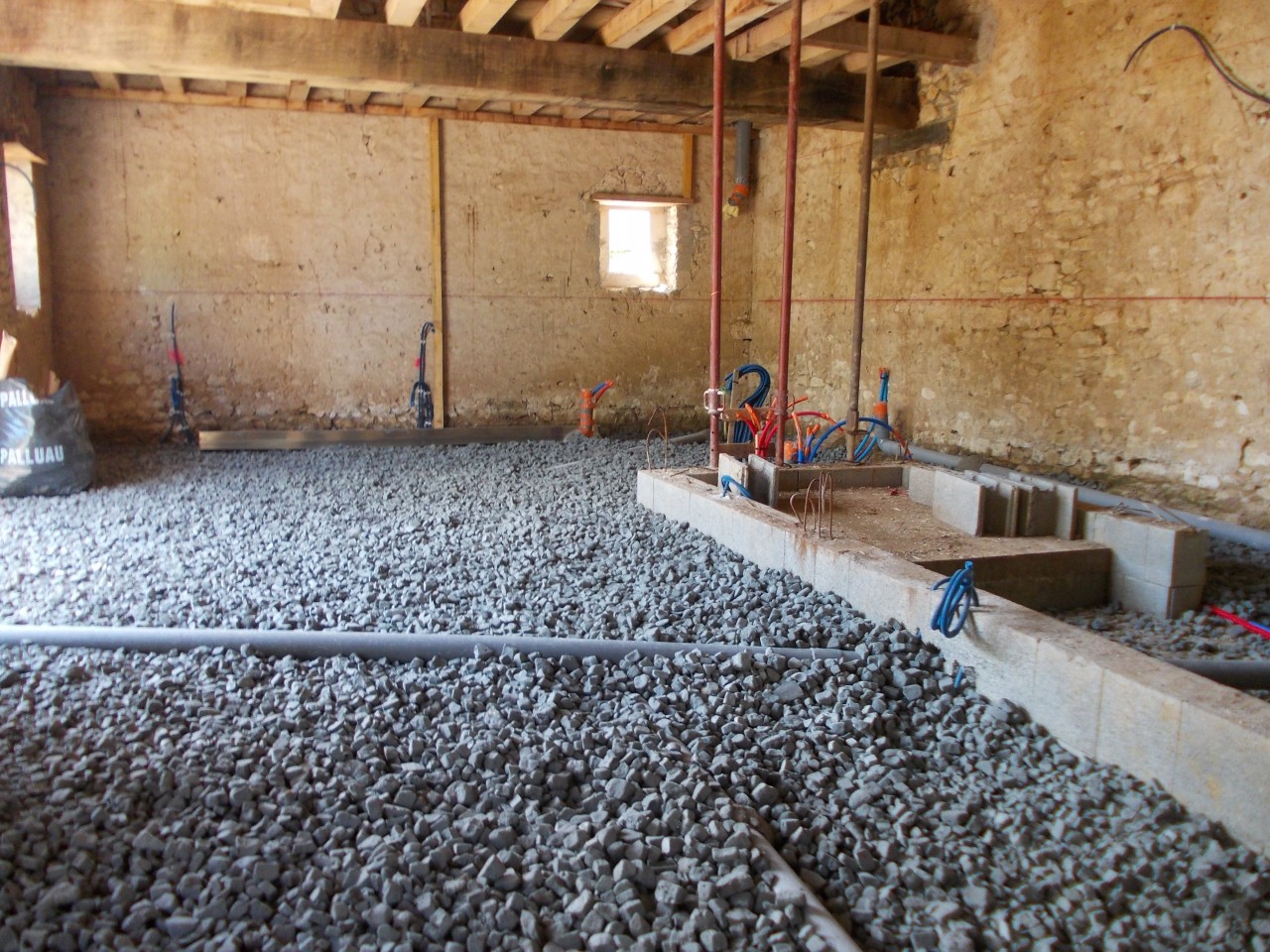 Clay concrete was used as a filtering substrate on the ground floor. It was manufactured on a lime screed using Technopor recycled glass foam with excellent compression and hydrophobic properties, there is a coherent thermal emission. Floor is tiled with local terracotta tiles.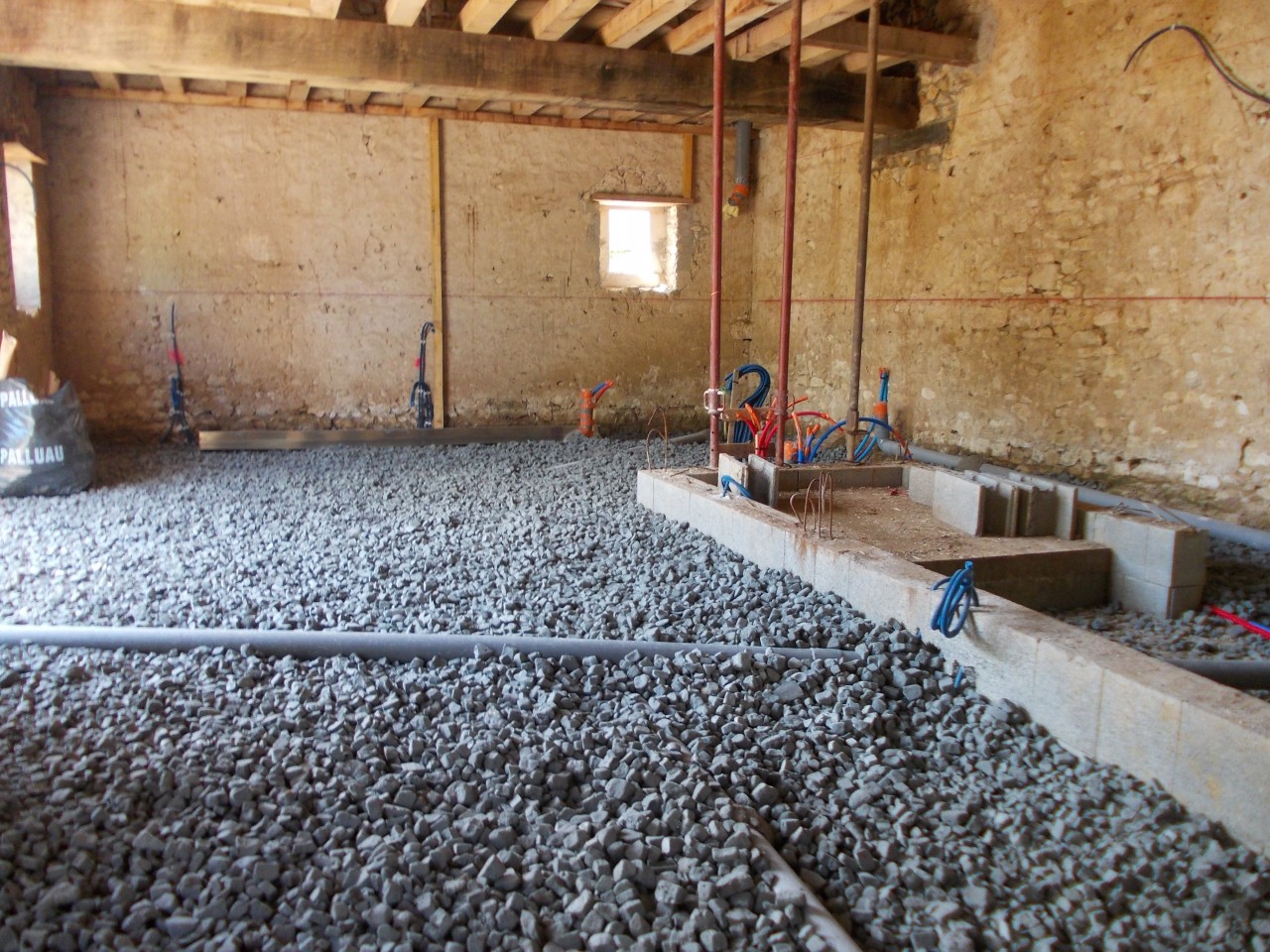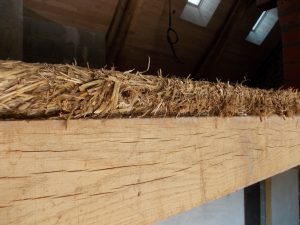 The floor is made of compressed straw slabs "Stramentech " ( 22 kg/m2 ) manufactured locally with straw coming from Champagne Berrichonne.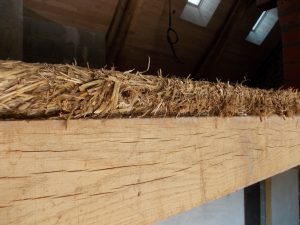 Local hemp production ( Challais ) used for roof insulating ( boxes ), building 12cm wide half timbers for wall insulation facing south, east and west.
Insulation walls facing north by wood  wool, technical canvas fabric by steam and  fermacell panels
South side of the roof insulated by local recycled tiles.e fermacel.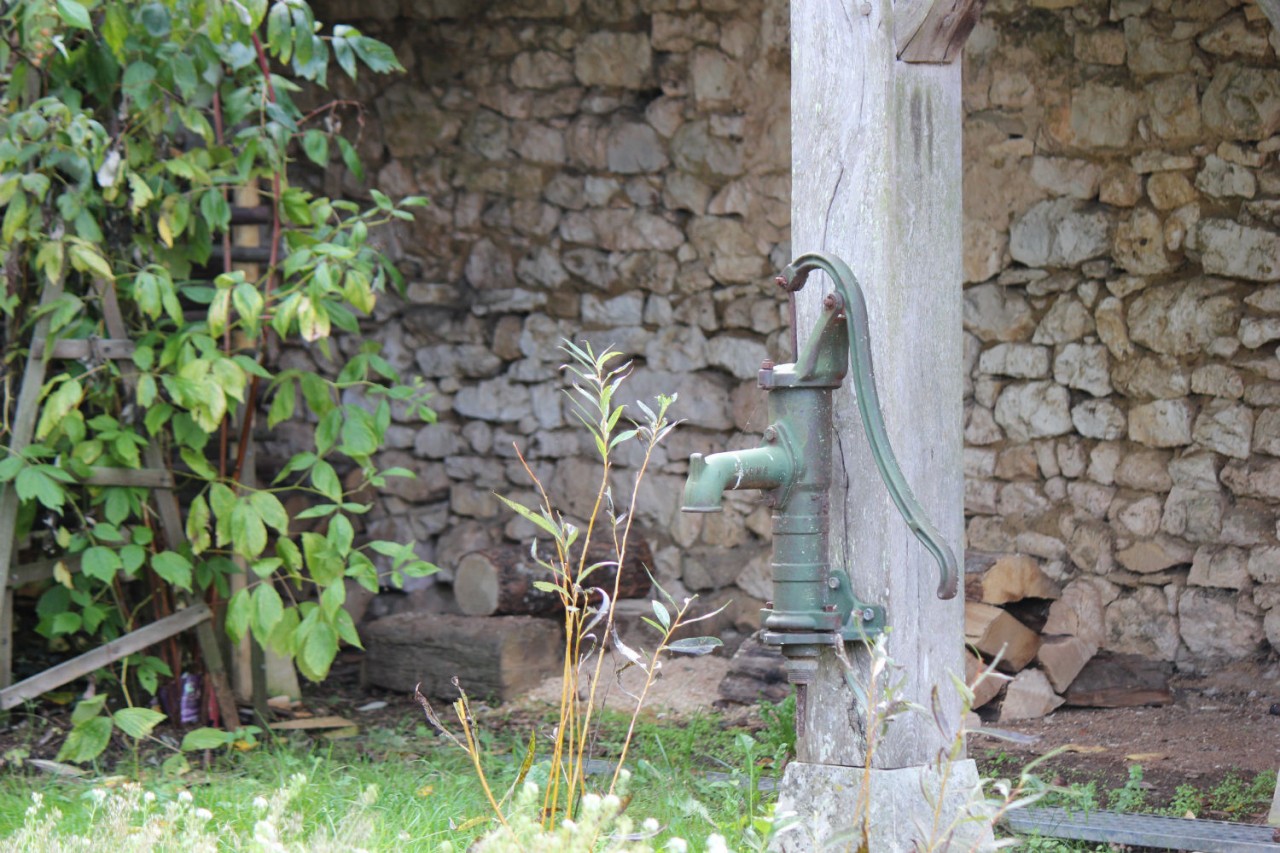 Couverture du versant sud de la toiture par tuiles de récupération de fabrication locale.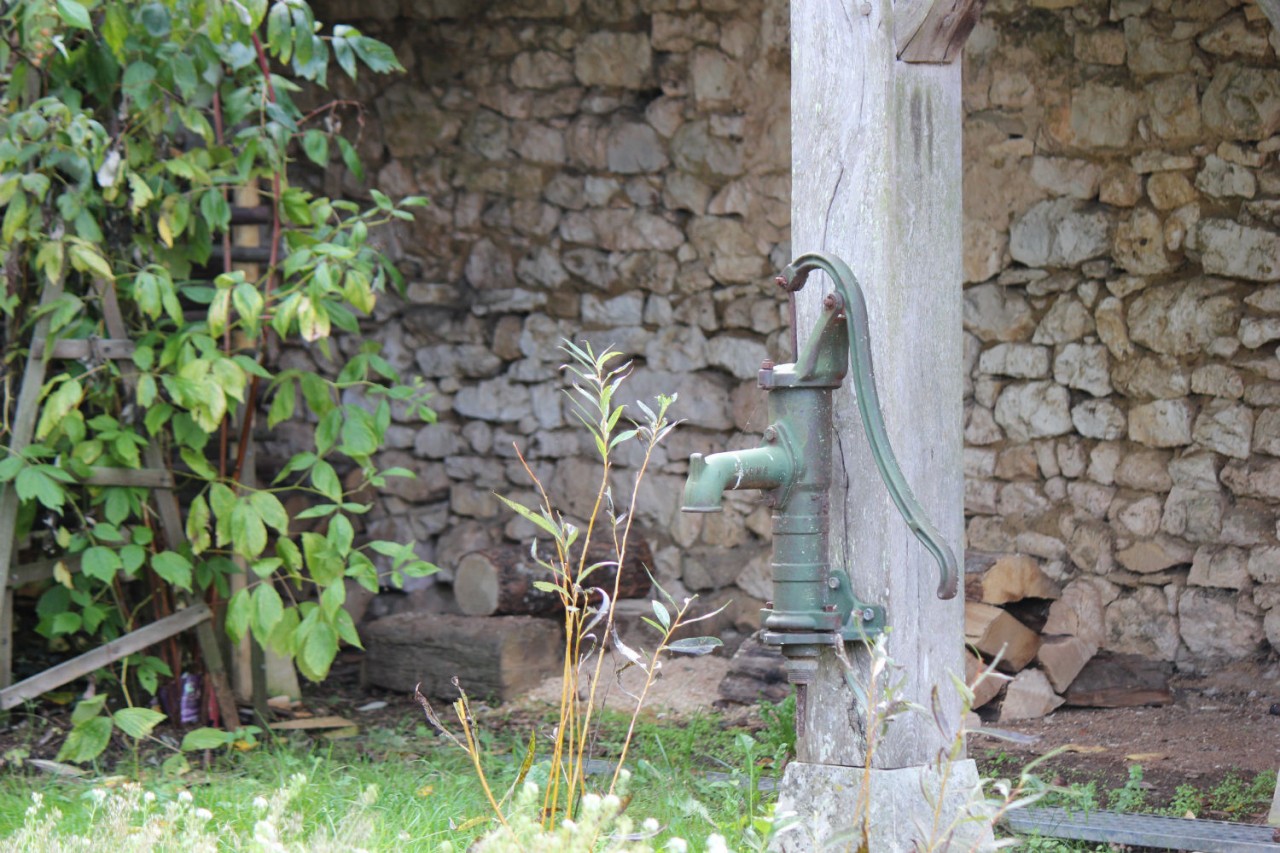 Sanitation by phyto purification
Sanitation by phyto purification
Water is vital for life but it is also a rarefied resource deeply affected by pollution. Therefore water management and protection is essential to guarantee life, men's, animals' and plants' need of this priceless resource
Sanitation by plants is an interesting alternative to consider for a building project as well as a renovation project.
An ecological, autonomous, aesthetic, efficient and innovative system costing no more than a traditional installation.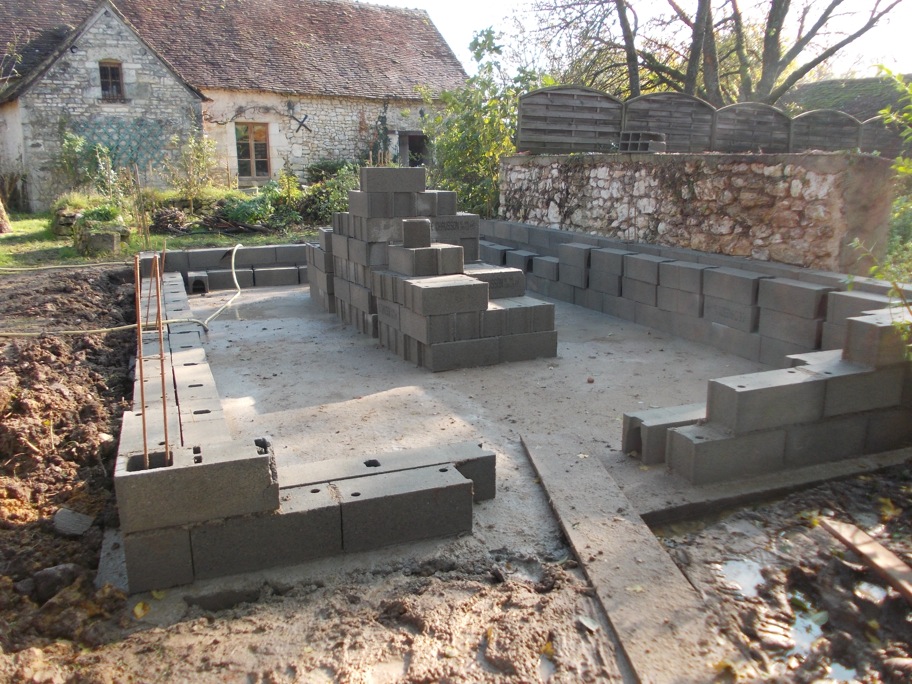 The 25m2 lime screed is located in a former « lost well » and is half-buried following a permeability study of the soil . It can bear the charge of 18 equivalents / inhabitants.